Inter Departmental Forms and Information
Questions or problems please contact the Shanna.Futral@utah.edu in the Department's administrative office.
Services:
GG Fleet vehicle - information and reservation
Forms:
These are interactive forms and can be auto filled, saved, e-mailed to the Chair or Professor/PI for electronic signature and forwarded on to the appropriate person in the Departmental office for processing.

Departmental Policy and Info:
Concur Systems Travel:
All Travelers are required to complete the Concur training well in advance of their next trip. SEE INSTRUCTIONS BELOW.
Domestic trips must be reserved not less than 1 day prior to the departure day.
International trips must be reserved not less than 3 weeks prior to departure day.
Failure to do so will result in the need for VP approval in order for the trip to reserved.
"Travel" is defined as anything that: Is over 100 miles roundtrip (even if it is all done in 1 day) ORinvolves an overnight stay (even if it is at a hotel in SLC). If your trip meets this definition, but you will NOT have ANY expenses that you will need reimbursed, you do NOT need to reserve your trip, UNLESS it is an international trip.
COVID-19 RELATED TRAVEL RESTRICTIONS:
The President's Cabinet made the decision to extend the current travel restriction for all university-related business travel for faculty, staff and students through Aug. 1, 2020. Business-related trips between now and Aug 1, should be canceled, unless you have obtained an approved exception. Exceptions to this restriction should be approved at least one week prior to departure, and are subject to final approval by Dr. Sarah Projansky, AVP for Faculty.
TRAINING:
STEP 1: Watch the videos and complete the quiz:
The Department's Concur training consists of 5 very short videos, split into their own sections, that cover the basics of SAP Concur and how to use it for your travels. After you watch the videos, please take the quiz (
https://www.surveymonkey.com/r/9WLQC2F
); each video has 3 questions with the links to the videos available in the page description at the top.
Training Videos: (
Note: The videos have no sound.)
STEP 2: Complete the Concur Online Training Form.
Travel Accounting has a form for you to submit after you complete the training. This form is how you certify for using the Concur system. To certify, go to
https://fbs.admin.utah.edu/travel/utravel-home/concur-online-training-form/
and fill out the form. Where it asks for your role, select "Traveler". Then, to complete the chartfield section, select 01 under the BU (Business Unit) option and type 05470 for the activity number.
NOTE: Everyone in our Department uses the same activity account (05470) when setting up their Concur profile; it's a default department-level account. However, t
his account is ONLY used to set up your profile; no travel expenses should ever be charged to it. In the future when you are requesting trips and expense reimbursements, you will input whichever one of your own or your PI's account(s) (activity or project) you want charged for that specific trip. PIs and supervisors will be notified by Concur each time someone submits a request using any of their accounts and will be able to approve or reject the request before it moves its way through the online approval system.
STEP 3: Check to make sure you have access to Concur.

A few days after you submit the form, try to log into your Concur account. Access Concur by going to https://fbs.admin.utah.edu/travel/utravel-home/, then click on "Login to System" (see image below).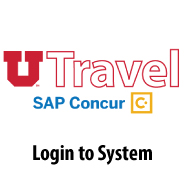 If you CAN log in to Concur, move to Step 4. If you canNOT, email Travel (travel@admin.utah.edu) and request a status update.
STEP 4: Set up your profile.
Following the instructions in the videos, set up your profile.
STEP 5: Confirm with Department Staff that you are set up in Concur.
Once your profile is set up, e
mail our Department Travel Facilitator, Kayleigh Kirkpatrick (Kayleigh.Kirkpatrick@utah.edu), to let her know you have Concur access. She will then finish setting up your account, which entails making sure both the Department Manager (Shanna Futral) and herself have access to your account AND that the Department Accountant (Jamee Lefler) is set up as a Department-Level Approver.
STEP 6 (optional): Please consider installing SAP Concur on your phone. It is not required, but HIGHLY recommended because it is extremely useful for uploading and keeping track of your receipts during your trips.
If you have any questions, please either join the Zoom help sessions or email Kayleigh Kirkpatrick, Department Travel Facilitator (
Kayleigh.Kirkpatrick@utah.edu
).