Fleet Vehicles
The GG fleet consists of five 8-passenger Suburban vans, three of which are new 2015 models and a 2015 Toyota Tundra.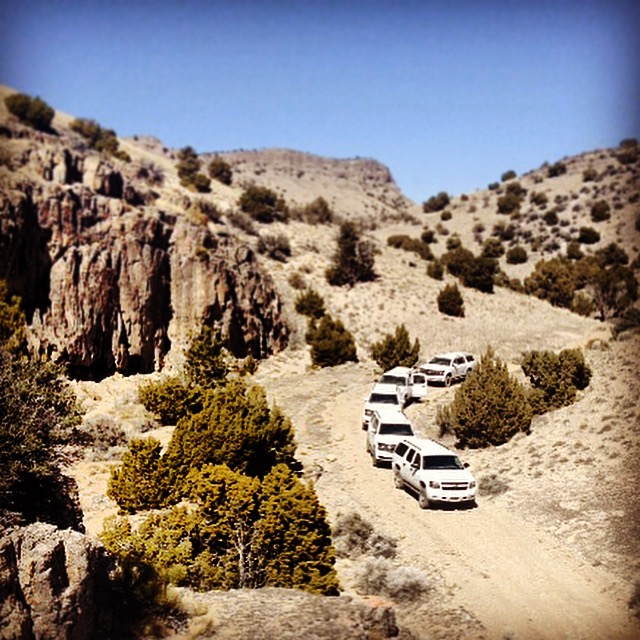 RESERVING DEPARTMENTAL VEHICLES

To reserve a departmental vehicle please go to the online form located by clicking the button below:
If you have any questions please e-mail geofleetres@gmail.com or contact the the department at (801) 581-7062.
VEHICLE MILEAGE LOGS:
On return, please fill out the mileage packet that was included in the bag with the keys for each vehicle.
WHAT YOU NEED TO KNOW BEFORE YOU GO:
KEYS
You may pick up the keys for the department vehicles from the department office in 383 FASB; keys should be returned to the same location after use.
FUEL

State of Utah fuel cards are included in the key packets with each departmental vehicle. These can only be used at stations displaying the Fuel Man logo. Instructions on using the cards (including card failure) and finding appropriate Fuel Man stations are included in the key packets.

If you are requesting the use of a rental vehicle (Enterprise or Motor Pool) be aware that you will have to pay fuel costs out of pocket. We can reimburse you for this if original receipts are submitted and PI approval is obtained.
When fueling (regular gas), check oil level and tire pressure. These are especially important when carrying a heavy load and before long trips.
In case of accident or breakdown refer to the instructions in the key packets
HEADING OUT
Before driving please remember to double check the vehicle's condition, mileage, and fuel levels.
ON YOUR RETURN
Please return all department vehicles to the fourth floor of the parking garage next to FASB. If this is not possible, or you have an issue, please be sure to email geofleetres@gmail.com their exact location as soon as the vehicle is returned. Please refuel, pack your trash and leave vehicles cleaner than you found them. Be sure NOT to park in or adjacent to a compact parking stall, reserved stall or in a metered stall. Please fill out the vehicle mileage logs by clicking on the links above and return the vehicle travel packet to the department office.
For any questions or concerns please e-mail geofleetres@gmail.com or the department at (801) 581-7062.