Earth Science Movie Night (Virtual)
Join Geology and Geophysics Faculty, Staff, and Students every Tuesday, starting September 1, at 7pm for a fun evening of watching and chatting about real science and "Hollywood" science in movies. Movies will be watched via Amazon Watch Party. This event is open to all students, staff, and faculty in the Department of Geology and Geophysics and College of Mining and Earth Science; however, participation is limited to the first 100 to enter the Watch Party and you must have Amazon Prime.
Amazon Prime Student: Amazon Prime Student is a Prime membership program created for college students. As a Prime Student member, you receive a six-month trial that includes Free Two-Day Shipping on over 50 million items, unlimited streaming of Prime movies and TV shows, unlimited photo storage with Prime Photos, exclusive deals and savings, and more! After your six-month trial ends, your Prime Student membership makes you eligible to receive 50% off Amazon Prime, and includes access to all Prime benefits. Join Prime Student so that you don't miss out on cheesey Earth Science movies and meaningful conversation!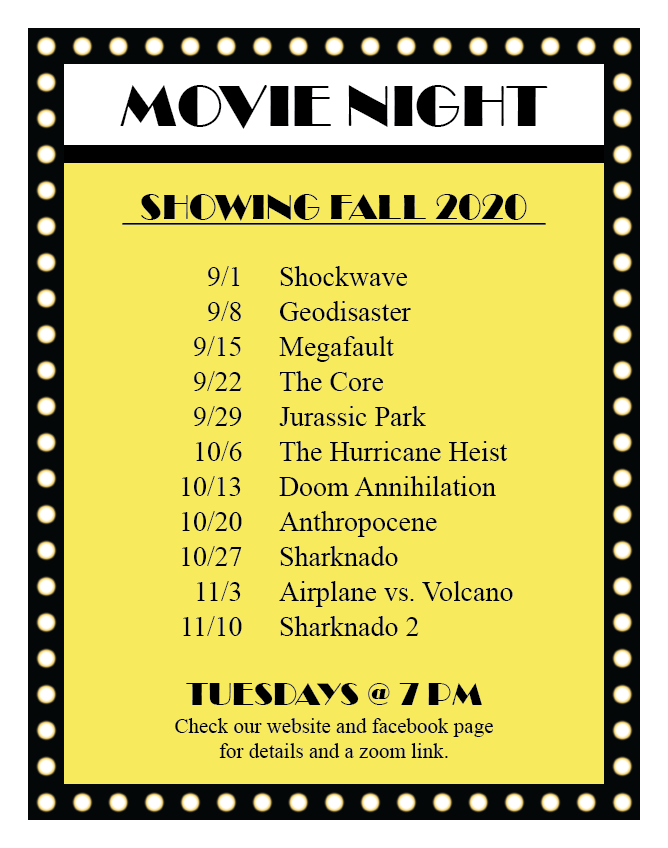 Viewing Schedule
September 1: Shock Wave.

September 9: Geodisaster

.

September 15: 40 Days and Nights

.

September 22: The Core.

September 29: Jurassic Park. Click to join: TBA at 6:30pm day of the screening.
October 6: The Hurricane Heist. Click to join: TBA
October 13: Doom Annihilation. Click to join: TBA
October 20: Anthropocene. Click to join: TBA
October 27: Sharknado. Click to join: TBA
November 3: Airplane vs. Volcano. Click to join: TBA
November 10: Sharnado 2. Click to join: TBA