Guy F. Atkinson Endowed Distinguished Lecture Series in the Department of Geology and Geophysics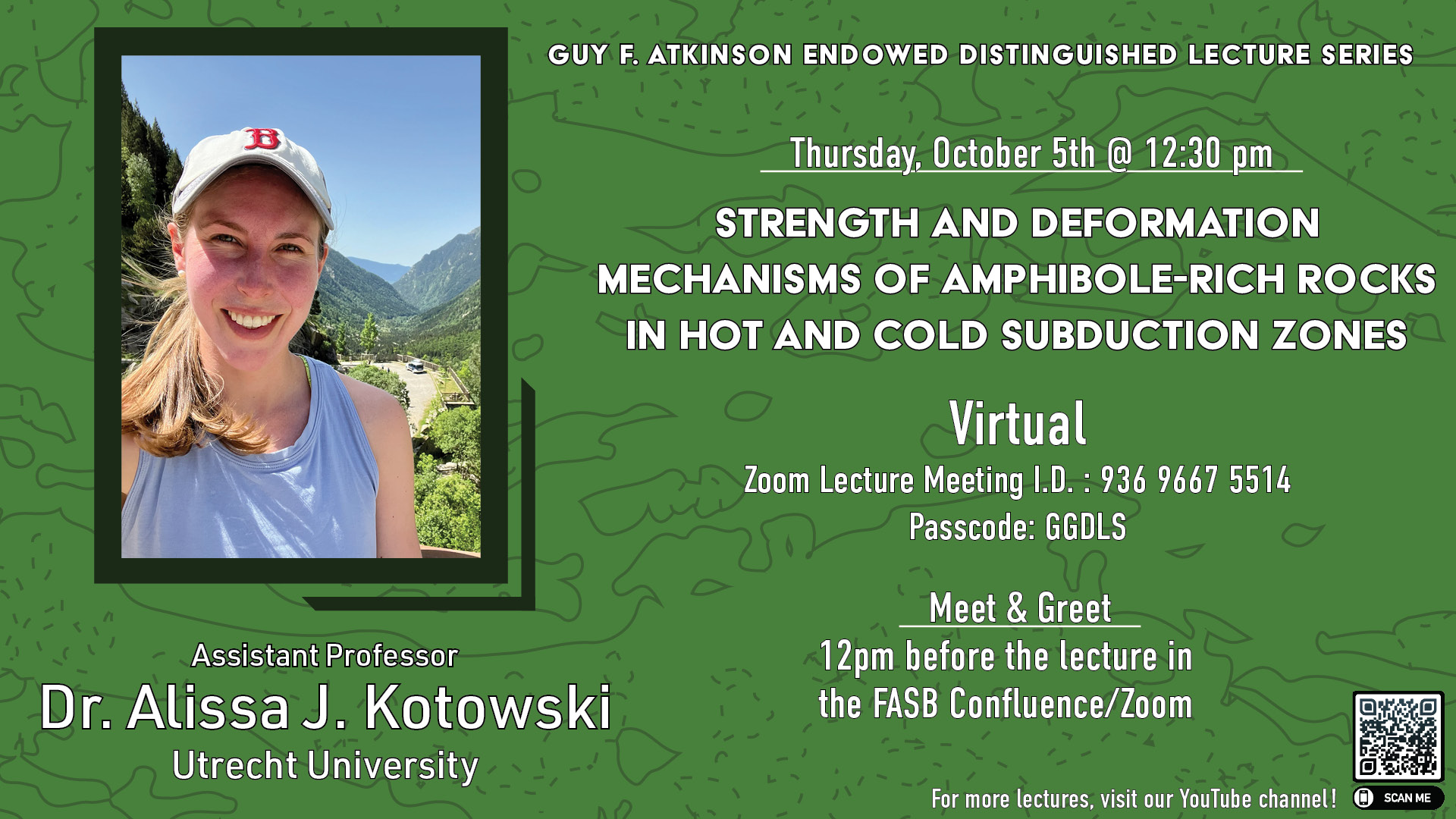 Alissa Kotowski is an Assistant Professor of Structural Geology and Electron Microscopy in the Department of Earth Sciences at Utrecht University in the Netherlands. She is originally from Boston, MA and earned her BSc from Boston College in 2014. She then earned her PhD from the University of Texas at Austin in 2019 where she was a National Science Foundation Graduate Research Fellow and worked on exhumed subduction zones to reconstruct structural and rheological evolution and interrogate the rock record to constrain mechanisms of slip transients in subduction zones. She then moved to Montreal, Canada where she was a Postdoctoral Research Fellow at McGill University. At McGill, she started to incorporate an experimental approach to her research, using nanoindentation to probe mineral plasticity, with a particular focus on amphiboles. Now as an Assistant Professor she is leading an active and lively research group that primarily focuses on the flow behavior of solid earth materials including ice and silicate rocks, but with emphasis on the initiation and maintenance of subduction plate boundaries both on the modern earth and deep in Earth's history.
Strength and deformation mechanisms of amphibole-rich rocks in hot and cold subduction zones
Alissa J. Kotowski
Assistant Professor
Department of Earth Sciences
Utrecht University
Slow slip and tremor (SST) in subduction zones comprise geodetically-detected plate boundary slip at rates exceeding background plate rates, in conjunction with bursts of microseismicity, and can release >90% of convergence-related stress down-dip of the megathrust. SST occurs over an incredible range of Pressure-Temperature conditions, so identifying specific characteristics of an SST-producing environment is challenging. One common denominator is the presence of metamorphosed oceanic crust containing amphibole as a strain-accommodating phase. However, the rheology of amphibole is poorly constrained, so its contribution to steady-state strength and/or slip transients is unknown. I will compare natural amphibole microstructures from three exhumed subduction complexes that record hot, warm, and cold subduction geotherms, spanning a P-T range that encompasses observed SST in active margins, and discuss the deformation conditions and mechanisms that may produce transients. Using nanoindentation experiments, I will then provide new insight into low-temperature plasticity in glaucophane, to discuss the implications of dislocation-accommodated deformation in cold shear zones. Depending on temperature, the presence/distribution of other phases, and fluid content, amphibole may be capable of accommodating steady-state flow and/or deformation transients over the range of observed SST depths.
The Guy F. Atkinson Endowed Distinguished Lecture Series is a free, public, weekly event to which we invite researchers, educators, and communicators from around the world. Here they present their unique and intriguing contributions to the field of Earth sciences. Our hope is to encourage meaningful discussion, challenge ideas, and to spark interest in the creation of a rich and diverse scientific culture that our students, staff, and faculty may carry out to the rest of the world.
Note: This semester we have a NEW time: 12:30pm!
Upcoming Lecture Information
MEET & GREET: Our Meet and Greets are a great opportunity for students, faculty, and staff to informally chat with the guest lecturer about their career and research. Meet & Greets take place only for in-person lectures and is from 12-12:30pm in the FASB Confluence Lobby.
LECTURE: The 1-hour lectures take place from 12:30pm-1:30pm.
In-person lecture take place in FASB 295 and are broadcasted via Zoom.
Virtual lectures are only broadcasted via Zoom.
Zoom: https://utah.zoom.us/j/93696645514, passcode: GGDLS. You do not need a Zoom account in order to join.
Previous Lectures
Check out our YouTube channel or click on the links below to watch past lectures (starting in 2019).
Day

Date
Location


Distinguished Guest Lecturer

Institution
Presentation Title
TH
1/20

Virtual

GEOSLAM

University of Utah Geology & Geophysics Grad Students

Grad students will present on their research topics

TH
1/27

Virtual

Catherine Macris

Indiana University


Mineralogical Society of America (MSA) Distinguished Lecturer Program: "Laser Beams and Levitating Lava Orbs: Science fiction or real tools for studying planetary science?"

TH
2/3

Virtual

Susan Brantley

Penn State University


"Weatherability of rocks and minerals from the laboratory to the critical zone"

TH
2/10

Virtual

Chen Zhu

Earth and Atmospheric Sciences at Indiana University

Henry Darcy Lecture: "How Are Geochemical Reactions in Aquifers Connected to Climate Change Mitigation?"

TH
2/17

Virtual

Michael Zhdanov

Distinguished Professor Geology & Geopysics University of Utah


Geophysical Inversion: Seeing the Unseeable.

TH
2/24

Virtual

Jeff Freymueller

Michigan State University


"Megathrust slip budget and earthquakes along the Alaska Peninsula"

TH
3/3
Virtual

Keith Koper

Utah Seismograph Stations University of Utah

"New observations and interpretations of the fine-scale structure of Earth's solid inner core"

M
3/14

Virtual

Rebecca Barnes

Associate Professor at Colorado College

PhD (2008) from Yale

Research foci: Biogeochemistry; Global change; Wildfire; Diversity, Equity and Inclusion

Enviromental Earth Science Series

Email gg-info@lists.utah.edu for Zoom information.

T
3/15

Virtual

Peter Crockford

Postdoc at Woods Hole

PhD (2018) from McGill University

Research foci: Geobiology; Earth history; Stable isotope geochemistry

W
3/16

Virtual

Rachel Lupien

Postdoc at Lamont-Doherty

PhD (2019) from Brown

Research foci: Organic geochemistry; Paleoclimate; Hominid evolution

TH
3/17

Virtual

Chad Ostrander

Postdoc at Woods Hole (Ph.D. in 2020)

PhD (2020) from Arizona State

Research foci: Isotope geochemistry; Earth history; Geobiology; Modern isotope cycling

M
3/21

Virtual

Elias Bloch

Maitre assistant (equivalent research associate) at the Institute of Earth Sciences - University of Lausanne

PhD (2013) from University of Arizona

Research foci: High-T geochemistry, geochronology, diffusion, experimental met.pet








Solid Earth Series

Email gg-info@lists.utah.edu for Zoom information.

T
3/22

Virtual

Nikki Seymour

Postdoc (NSF fellow) at Stanford University & UC Santa Cruz

PhD (2020) from Colorado State University

Research foci: Structural Geology, Geochronology, Tectonics, fieldwork

W
3/23

Virtual

David Hernandez Uribe

Postdoctoral fellow at the University of Michigan

Ph.D. (2020) from Colorado School of Mines

Research foci: Metamorphic, Phase Equilibria, Tectonics, Subduction, fieldwork

TH
3/24

Virtual

Juan Carlos de Obeso

Postdoc at University of Calgary

Ph.D. (2019) from Columbia University/LDEO

Research foci: High-T geochemistry, fluid-rock reaction, CCS, experimental, fieldwork.

F
3/25

Virtual

Elisabeth Gallant

Postdoc (NSF fellow) at USGS Hawaiian Volcano Observatory

PhD (2019) from University of South Florida

Research foci: Volcanology, Volcanic Hazard Assessment, fieldwork

TH
3/31

Virtual

Rolf Kipfer

Deputy Head of the Dept. of Water Resources and Drinking Water at the Swiss Federal Institute of Aquatic Science and Technology

The ballade of noble gases, paleoclimate, Black Smokers and Arsenic …

TH
4/7

Virtual

Yemane Asmerom

University of New Mexico


TBA

TH
4/14

TBA

TBA

TBA

TBA
| | |
| --- | --- |
| Asmeret Berhe | Spring 2021 |
| Mark Panning | Spring 2021 |
| Valier Galy | Spring 2021 |
| Estella Atekwana | Spring 2021 |
| Chris Jackson | Spring 2021 |
| Isabel Patricia Montañez | Spring 2021 |
| Matt Jackson | Spring 2021 |
| Valier Galy | Spring 2021 |
| Jorge Velez-Juarbe | Spring 2021 |
| Roland Bürgmann | Spring 2021 |
| Michael Kipp | Spring 2021 |
| Jamie McFarlin | Spring 2021 |
| Sarah Crump | Spring 2021 |
| Julia Kelson | Spring 2021 |
| | |
| --- | --- |
| Zachary Ross | Fall 2020 |
| Mark Torres | Fall 2020 |
| Shi (Joyce) Sim | Fall 2020 |
| Ellen Thomas | Fall 2020 |
| Enrique Merino | Fall 2020 |
| Kate Freeman | Fall 2020 |
| Parvathy Prem | Fall 2020 |
| Asmaa Boujibar | Fall 2020 |
| Jane Willenbring | Fall 2020 |
| Zack Spica | Fall 2020 |
| Kayla Iacovino | Fall 2020 |
| Naomi Levin | Fall 2020 |
| | |
| --- | --- |
| John Howell | Fall 2019 |
| Tony Dore | Fall 2019 |
| WILLIAM BRAZELTON | Fall 2019 |
| Philipp P Ruprecht | Fall 2019 |
| Zach Ross | Fall 2019 |
| Kendra Murray | Fall 2019 |
| Pete Lippert | Fall 2019 |
| Adrian Harpold | Fall 2019 |
| Alisha Clark | Fall 2019 |
| Brenda Bowen | Fall 2019 |
| Kent Condie | Fall 2019 |
| Kate Maher | Fall 2019 |
| Mark Schmitz | Spring 2019 |
| Alexis Ault | Spring 2019 |
| Justin Filiberto | Spring 2019 |
| Carlos Santana | Spring 2019 |
| Jani Radebaugh | Spring 2019 |
| Adolph Yonkee | Spring 2019 |
| Tim van Peer | Spring 2019 |
| Jamie Farrell | Spring 2019 |
| Tiffany Rivera | Spring 2019 |
| Emily Kleber | Spring 2019 |
| Enrique Merino | Spring 2019 |
| Harley Benz | Spring 2019 |
| | |
| --- | --- |
| Dr. David Sandwell | Fall 2018 |
| Dr. Meghan Miller | Fall 2018 |
| Michal Kowalewski | Fall 2018 |
| Dr. Allen Glazner | Fall 2018 |
| Dr. Zhaoxia Pu | Fall 2018 |
| Dr. Andrea Brunelle | Fall 2018 |
| Dr. David Boutt | Fall 2018 |
| Dr. Ioan Lascu | Fall 2018 |
| G&G students & faculty | Fall 2018 |
| Dr. Kristine Pankow | Fall 2018 |
| Dr. Bonnie Baxter | Fall 2018 |
| Dr. Kristine Larson | Fall 2018 |
| Dr. Francis Albarede | Fall 2018 |
| Paul Koch, Distinguished Professor | Spring 2018 |
| Geoslam | Spring 2018 |
| Sam Hudson, Assistant Prof. | Spring 2018 |
| Bob Biek | Spring 2018 |
| Eric Bilderback | Spring 2018 |
| Devon Orme, Assistant Professor | Spring 2018 |
| Rich Giraud | Spring 2018 |
| Marc Caffee | Spring 2018 |
| Kate Allstadt | Spring 2018 |
| Jeff Coe | Spring 2018 |
| None - Spring Break | Spring 2018 |
| Ramon Arrowsmith | Spring 2018 |
| Stephanie Prejean, Research Geophysicist | Spring 2018 |
| Adrian Hartley, Professor | Spring 2018 |
| Brian Collins | Spring 2018 |
| | |
| --- | --- |
| Jorg Pross | Fall 2017 |
| Summer Rupper | Fall 2017 |
| Bayani Cardenas | Fall 2017 |
| Jerry Schuster | Fall 2017 |
| Jessica Creveling | Fall 2017 |
| Leif Tapanilla | Fall 2017 |
| Yadira Ibarra | Fall 2017 |
| Susan Schwartz | Fall 2017 |
| Scott Hynek | Fall 2017 |
| Elizabeth Balgord | Fall 2017 |
| Jessica Tierney | Fall 2017 |
| T. J. Ulrich | Spring 2017 |
| GeoSlam | Spring 2017 |
| John Bartley | Spring 2017 |
| Tammy Rittenour | Spring 2017 |
| Steve Holbrook | Spring 2017 |
| Beatrice Magnani | Spring 2017 |
| Scott Giorgis | Spring 2017 |
| Glenn Thackray | Spring 2017 |
| | |
| --- | --- |
| Paul Brooks | Fall 2016 |
| Marie Jackson | Fall 2016 |
| Ron Harris | Fall 2016 |
| Kevin Ward | Fall 2016 |
| Yu Wang | Fall 2016 |
| Carie Frantz | Fall 2016 |
| Matt Haber | Fall 2016 |
| Kate Huntington | Fall 2016 |
| Ed Nissen | Fall 2016 |
| Nick Pyenson | Fall 2016 |
| Andrea Bunelle | Fall 2016 |
| Dr. Mike Poland | Spring 2016 |
| Dr. Bill McDonough | Spring 2016 |
| Dr. Reed Burgette | Spring 2016 |
| Dr. Alex Gribenko | Spring 2016 |
| Dr. David Sandwell | Spring 2016 |
| Dr. Peter Molnar | Spring 2016 |
| Dr. Alan Carroll | Spring 2016 |
| Dr. Sallie Greenberg | Spring 2016 |
| Dr. Joe MacQuaker | Spring 2016 |
| Dr. Gene Humphreys | Spring 2016 |
| Dr. Jack Shroder | Spring 2016 |
| Dr. Scott Miller | Spring 2016 |
| | |
| --- | --- |
| Dr. Hsin-Hua Huang | Fall 2015 |
| Dr. Clark Johnson | Fall 2015 |
| Dr. Jay Quade | Fall 2015 |
| Dr. Craig Rasmussen | Fall 2015 |
| Dr. Dave Pearson | Fall 2015 |
| Dr. Dennis Newell | Fall 2015 |
| Dr. Seulgi Moon | Fall 2015 |
| Dr. Tiffany Rivera | Fall 2015 |
| Dr. Mike Stearns | Fall 2015 |
| Dr. Vera Schulte-Pelkum | Fall 2015 |
| Jerry De Graff | Fall 2015 |
| Dr. Dennis Bazylinski | Fall 2015 |
| Dr. Erik Oerter | Fall 2015 |
| Dr. Sora Kim | Spring 2015 |
| Dr. Cristina Belanger | Spring 2015 |
| Dr. Kathleen Ritterbush | Spring 2015 |
| Dr. Adam Huttenlocker | Spring 2015 |
| Dr. Bill Farrand | Spring 2015 |
| Dr. Bethany Ehlmann | Spring 2015 |
| Dr. Pheobe Lam | Spring 2015 |
| Dr. Kyle Spikes | Spring 2015 |
| Dr. Vedran Lekic | Spring 2015 |
| Dr. Xin Song | Spring 2015 |
| Dr. Patricia Manley | Spring 2015 |
| Dr. Amir Allam | Spring 2015 |
| Dr. George Davis | Spring 2015 |
| Dr. Joe Dufek | Spring 2015 |
| | |
| --- | --- |
| Dr. Song-Heon Dan Shim | Fall 2014 |
| Dr. Thorne Lay | Fall 2014 |
| Dr. Lauren Birgenheier | Fall 2014 |
| Dr. Brandon Schmandt | Fall 2014 |
| Dr. Aria Abubakar | Fall 2014 |
| Dr. Eric Hellebrand | Fall 2014 |
| Dr. Kerry Key | Fall 2014 |
| Dr. Juergen Schieber | Fall 2014 |
| Dr. John Wahr | Fall 2014 |
| Dr. Adrian Borsa | Fall 2014 |
| undergraduate students | Fall 2014 |
| Dr. Tony Lowry | Fall 2014 |
| Dr. Rebecca Barnes | Fall 2014 |
Accordion content goes here