Adjusted ADMINISTRATIVE office HOURS
For Spring Semester 2021, our administrative office (383 FASB) will be open Mondays from 9am-3pm (minus Mondays that fall on university closure days and holidays) with reduced staff. We may open for additional days later in the semester depending on COVID-rates.
We will also be openned Tuesday-Friday, January 19-22, from 9am-3pm, to facalicated students picking up material kits for their courses.
All administrative staff members are working virtually and are reachable via email (preferred) and phone (voice messages are being checked daily during the work week). They are also available to meet via zoom or, if needed, in-person in 383 FASB; contact each staffer directly to set up a meeting. For details on who to reach out to, please refer to the Department Administration directory. You may also email gg-office@lists.utah.edu.
The CMES Dean's office will remain open M-F for the time being.
If you are a student needing to drop off material kits, there is a dropbox outside of the office (383 FASB).
Packages and mail will continue to be sorted and the GG mailroom/breakroom (301 FASB) is accessible with your key. If you encounter any issues, please reach out to Wil Mace (801-585-5214).
If you need in-person assistance or have deliveries while the office is closed, please call or visit the CMES Dean's Office (801-585-8767, 205 FASB).
Thank you for your patience and understanding as we all navigate these unprecedented times.
Stay safe! And please reach out to us if you need anything.
Future Students

Down to Earth
Keep up with what we are doing around the department and the achievements of our students, faculty and alumni by reading the current issue of, Down to Earth, the annual news letter for the Department of Geology and Geophysics.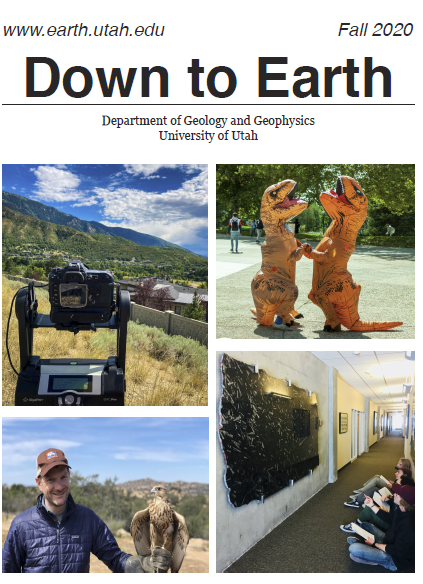 Geology & Geophysics Annual Open house
Due to physical distancing requirements due to COVID-19, we are currently working on plans for how to adapt our 2020-2021 Academic Year Open House. Check back here for updates.
Did you miss our annual open house on October 18th 2019?
Check out this years highlights from the event
Watch the feature presentation by Professor Emerita, Dr. Barbara P. Nash
Do you want to know more about our open houses, click here for information about our open houses.