Alumni Social
Join the Virtual Social, NovEMBER 19 @ 3 pm MST
Featured Alumni Guest Speaker, Dr. Naomi Levin,

NOVEMBER 19 @

4 pm MST
Agenda
Logistics and Introduction - Dr. Marjorie Chan, Dr. Thure Cerling, and TJ McMullin
Breakouts by Decades -

Drs. Marjorie Chan (pre 1980s)
Dr. Thure Cerling (1980s)
Dr. Erich Petersen (1990s)
Dr. Pete Lippert (2000s)
Dr. Lauren Birgenheier (2010s)

Breakout by Disciplines -

Drs. Lauren Birgenheier and Marjorie Chan (Sedimentary & Paleontology)
Drs. Marie Jackson and Thure Cerling (Petrology & Geochemistry)
Dr. Paul Jewell (Hydrology & Surficial Processes)
Drs. Jamie Farrell and Jim Pechmann (GeoPhysics)
Dr. Pete Lippert (GeoEngineering & Tectonics)

Recap

- Dr. Marjorie Chan

Distinguished Lecture - Dr. Naomi Levin
Featured Alumni Guest Speaker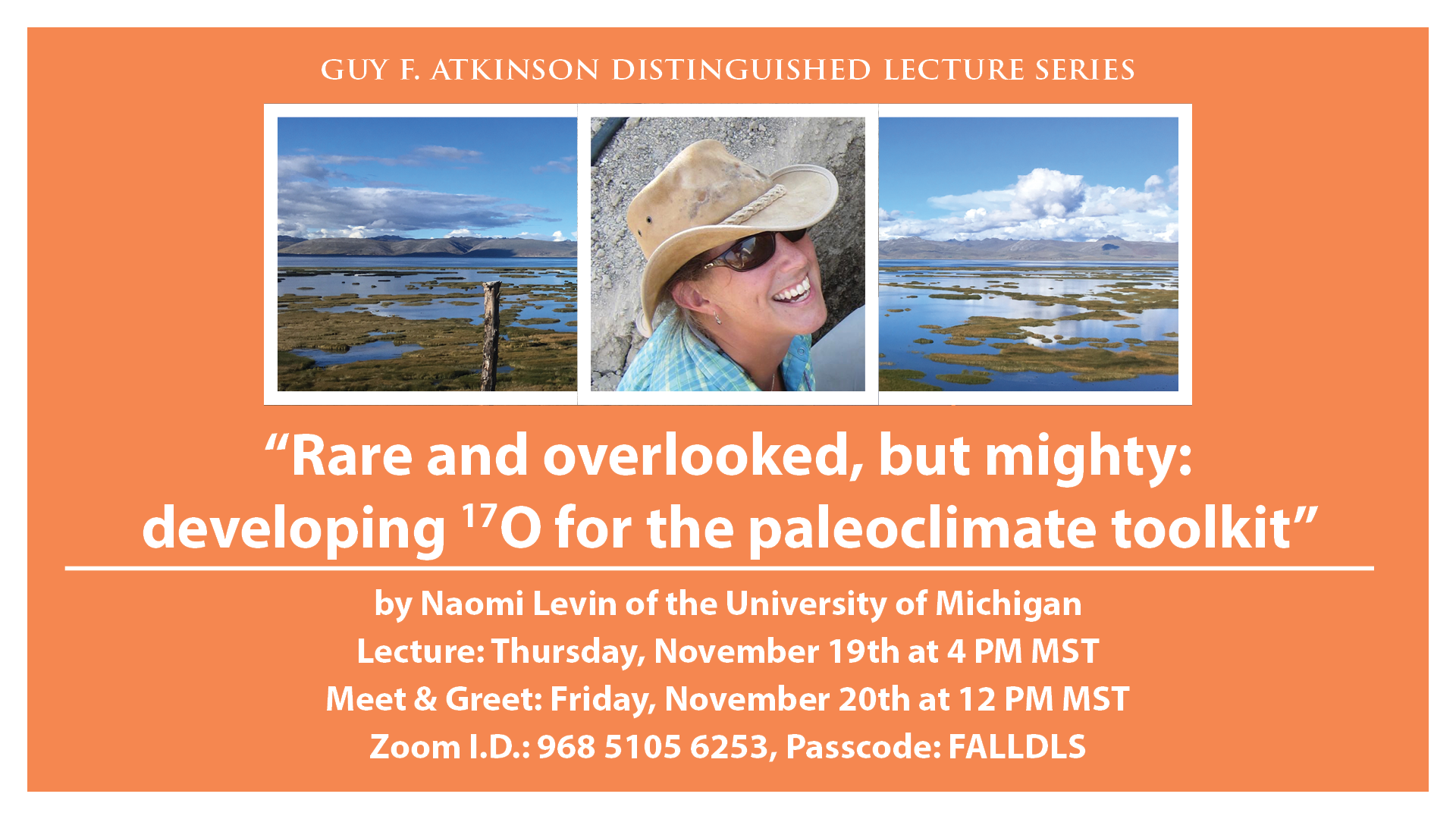 Please join us for her lecture, which is part of our Department's Distinguished Lecture Series, from 4:00-5:00 PM MST via: Zoom: https://utah.zoom.us/j/96851056253, password: FALLDLS.
About: Naomi Levin received her B.S. and B.A. degrees in geology and anthropology from Stanford University in 2000. She completed her M.S. at the University of Arizona in 2002, her Ph.D. at the University of Utah in 2008, and postdoctoral work at Caltech in 2009. Naomi was an Assistant Professor at Johns Hopkins from 2009 to 2016. She studies how Earth's organisms and landscapes respond to past climate change.
Keep Us Updated!
Alumni, have you moved, changed jobs, or have exciting news to share? Please submit an Alumni Contact Information Form. Please let us know if it is okay to publish your update on our website. Also email to gg-info@lists.utah.edu any photos that you would like to see posted in our photo gallery.
Check out the Geology and Geophysics Department Umarket where you can buy our branded t-shirts, mugs, stickers, patches, etc! They make great gifts and all proceeds support student activities within the Department.