Explore the Frederick Albert Sutton Building
THE FREDERICK ALBERT SUTTON BUILDING
---
REVEREND MARTA SUTTON WEEKS-WULF
& FREDERICK ALBERT SUTTON
---
PERSPECTIVE
Upon its completion in 2009, FASB was one of the first Earth science LEED-certified green buildings in the country. With museum-like geologic art displays, many friends and alumni hailed it as the most spectacular geology building in the country. This may sound rather unbelievable, but many who have seen it in person concur. Our own faculty, who have likely visited every major Earth science department in the world, agree that we have created a unique space to showcase our geologic art to inspire and excite students. This serves as an example of what can be done to further infuse Earth science into the community.
As an outreach and recruiting tool, FASB can help attract the very best and brightest to venture into the field. It has also opened many opportunities for the Department to develop community partnerships that were not so easily available before. The building is routinely visited by campus and off-campus groups, University orientation tours, and more. Faculty and architect teams from other institutions come to visit and learn how they can incorporate similar successful elements into their own new or existing buildings. As a "beacon of excellence", FASB is a prime example of what many other campus buildings want to emulate.
---
STUDENT TESTIMONIALS
"I came to be in the Geology building because my mom had recommended the coffee shop to me and that I should check out the new building. I had no idea at the time that it would become the building where I would meet the most inspirational faculty and create lifelong friends, but I certainly felt something when I entered the door that day. I indulged in my desire to stare in wonder at the metaconglomerate slabs and the early hominids. I thought to myself, I should take a Geology class."
"I walked into the lobby of the Sutton Building and was blown away. Every university I had toured prior gave me the same talk about how their geology program was so well funded and supported, but the Sutton Building showed me that what I had been hearing from the U was more than just a sales pitch. I remember walking around the building with my mom and saying "Look! They have ichnites just hanging on the walls! I love ichnites!" The slabs of orthoceras, the Allosaurus skull, the wall of Green River fish, it was all stunning!"
"I was walking the halls of the Sutton building one night at work, making sure all the doors were secure as part of my job as campus security. I walked around the third floor and the displays inspired me in a way that only art can. I came to the conclusion that a career in the earth sciences would allow me to pursue my passions and to have a positive effect on the world. Life works in mysterious ways and though my academic journey has been longer than most, I can truly say that I've never been happier and more excited about my future. FASB, its architectural wonders, and amazing geological art pieces were instrumental in helping me reconnect with my inner self and discover the joy it is to be an Earth scientist."
---
BUILDING AWARDS
---
LEED-CERTIFIED BUILDING
---
EVENTS AT FASB
FASB is often brimming with activity, including a weekly Distinguished Lecture Series, public building tours, K-12 fieldtrips, prospective student meet-and-greets, and a bi-annual public open house.
---
PUBLIC OPEN HOUSES
---
EXPLORING OUR FLOORS
One of the unique aspects of FASB is that it blurs the traditional boundaries between bricks and mortar and educational programs. There has never been a more important time to understand the planet Earth and the role of our science in society.
Spectacular rock slabs displayed on all four floors tell about various Earth processes and come from around the world. All of FASB's displays are carefully selected to teach specific geologic concepts. The building is "stratified" with its faculty in the subdisciplines of solid Earth (second floor), Earth history (third floor), and Earth's surface (fourth floor). Many of the rock slabs were given by or acquired from Arizona Tile, Contempo Ceramic Tile, Daltile & Stone, European Marble & Granite, North Salt Lake Marble & Granite, Western Hills, The Stone Collection, Bedrosians, and State Stone. In addition, polished stone accent table tops, gifted by North Salt Lake Marble & Granite, are scattered throughout the building and tell additional geologic stories.
---
BUILDING MAP
---
EAST ENTRANCE/SECOND FLOOR
Landscaping at FASB's east entrance is designed to merge with the Rock Garden in front of the adjoining William Browning Building. A dry-river cobble bed outside the east entrance, facing the Wasatch Mountain, extends inside the building as a sinuous stream of pebble tile. Encased in epoxy, the pebble stream moves westward toward the stairway where it, like the stairway, drops to the first floor. The pebble stream continues flowing westward toward the first floor entrance where, outside the building, it once again becomes a dry-river cobble bed and continues toward the Salt Lake Valley.
Rock monoliths from Butterfield Gardens merge with
the Rock Garden on the east side of the William Browning Building

The multicolored slate tiles are Precambrian (Neoproterzoic) from the Serra da Santa Helena Formation, Bambuí Group of the São Francisco Supergroup, Minas Gerais State, Brazil and are gifts from Daltile & Stone and Green Slate Mining. The river pebbles are from China, donated by Solistone, Inc.

The angled rock slab just outside the east entrance is
garnet-staurolite-schist, a "quarried end piece" from
the Precambrian Espinhaco Supergroup, Piripá, Bahia, Brazil
and is a gift from Contempo Ceramic Tile.
---
SECOND FLOOR DISPLAYS & SLABS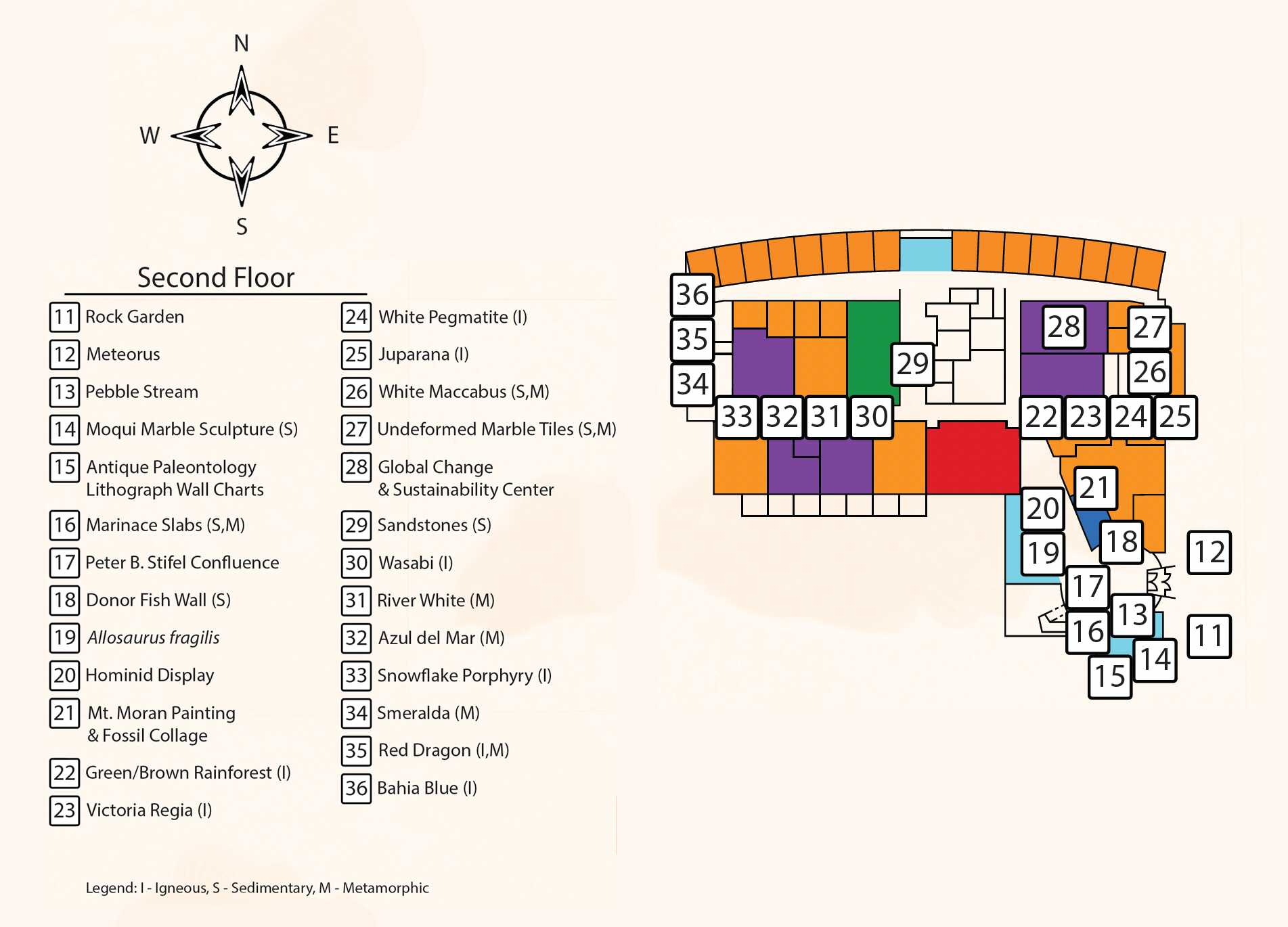 ---
PETER B. STIFEL CONFLUENCE
---
AN IRON CONCRETIONS JOURNEY SCULPTURE
---
DONOR FISH WALL
---
ANTIQUE PALEONTOLOGY LITHOGRAPH WALL CHARTS
---
PLANT WALL
Just around the corner from the Confluence is an equally spectacular display of carbonized leaf fossils, also from the Green River Formation and ancient Fossil Lake. Because plant fossils—particularly ones that are well-preserved enough for use in scientific research—are generally quite rare, the Plant Wall is one of the best displays in the country.
This remarkable collection of plant fossils come from the Ulrich fossil quarries near Kemmerer, Wyoming. Dr. Lonnie and Shannon Paulos generously donated this collection to the University of Utah. Other portions of his collection are housed within the Department of Geology and Geophysics and the Natural History Museum of Utah at the University of Utah.
---
OPEN DISPLAYS
---
CANYONLANDS PAINTING
---
FIRST FLOOR
Outside on the west side, a braided river sidewalk separates FASB and the parking structure with a façade of the Basin and Range province. The building concrete foundation echoes the river theme with its cross-bedded pattern low on the external walls on the north and west sides.
Many vital functions take place on the first floor with its sample preparation laboratories, field equipment storage, computing facilities, and department collections.
---
FIRST FLOOR DISPLAYS & SLABS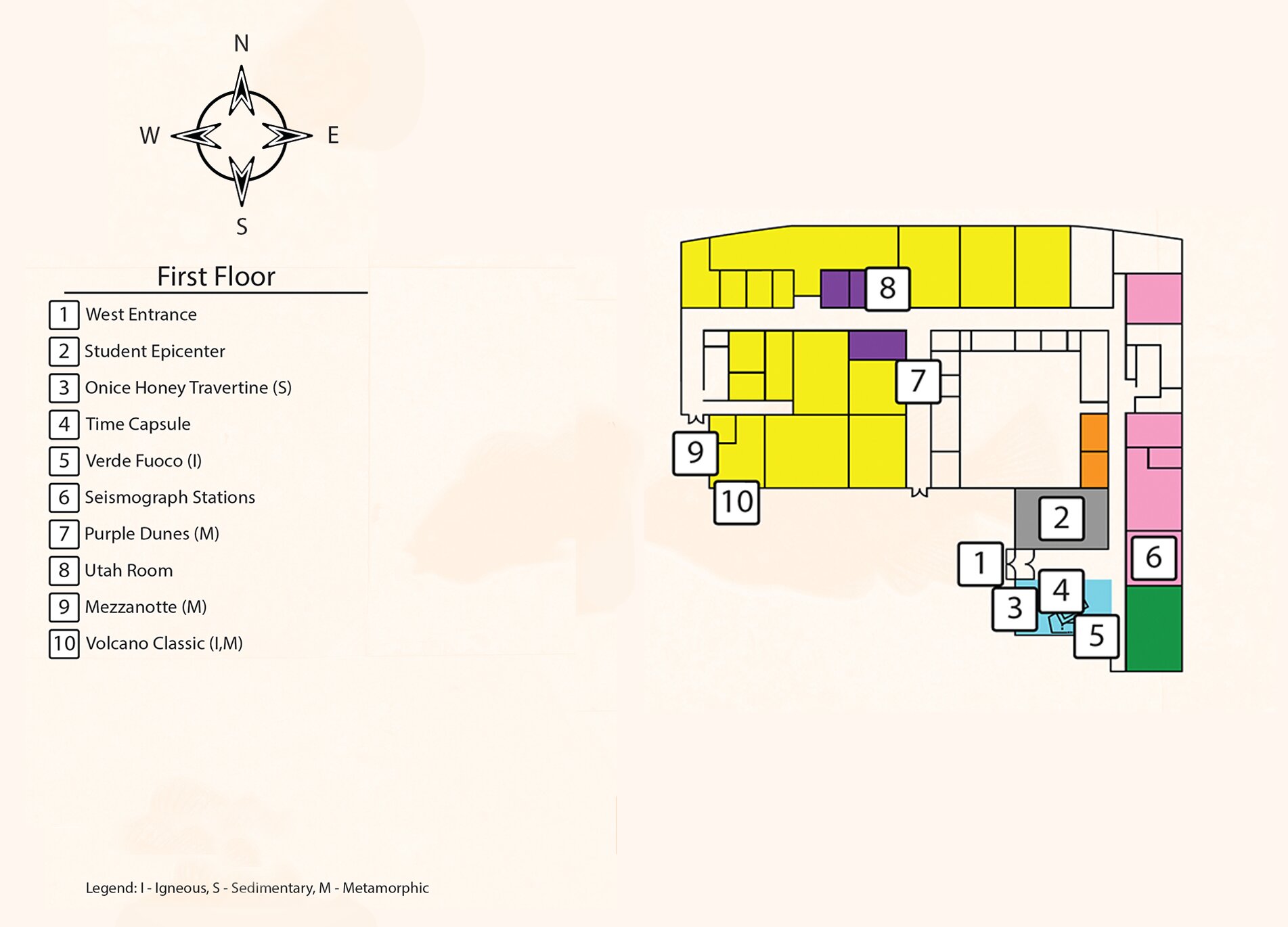 ---
TIME CAPSULE BENCH
---
RIO TINTO EARTHQUAKE INFORMATION CENTER
The Rio Tinto Earthquake Information Center, made possible by a generous gift from Utah Kennecott Copper, a subsidiary of Rio Tinto, is the state-of-the-art home of University of Utah's Seismograph Stations (UUSS)—now located in an earthquake-resistant facility with backup power. Earthquakes have been recorded at the University of Utah for more than 100 years. UUSS, formally established in 1966, is a group of faculty, staff, and students involved in seismic monitoring of the Utah region and the Yellowstone National Park region (quake.utah.edu). Data from more than 300 regional and urban seismic stations are continuously transmitted to the UUSS network center where they are automatically processed as part of a real-time earthquake information system, operating since 2002 as part of the Advanced National Seismic System. The Center advances earthquake science, awareness, and public safety. It provides visualization tools and electronic displays that help the public service and educational missions of the Center and UUSS in interactions with public school students, news media, and the general public. Virtual Tour of Rio Tinto Earthquake Center
---
STUDENT EPICENTER
The Student Epicenter, the College of Mines and Earth Science's (CMES) academic advising center, opened in 2018 and is accessible from the first floor lobby and FASB west entrance. The Epicenter helps students get involved with and connected to resources they need to succeed and, ultimately, make an impact on the world. Among other services, the Epicenter provides academic advising, scholarship postings, information on CMES clubs and student professional chapters, open study sessions, and help with resumes, interviewing skills, and applying for graduate school.
---
Other first floor spaces include:
SPATIAL Laboratory: Conducts Hydrogen and Oxygen isotopic analysis using Cavity Ringdown spectroscopy.

GeoHazards Laboratory: Concept testing and calibration of instrumentation used to asses geologic hazards such as landslides and arch stability

Thinsection Laboratory: Preparation and polishing of geologic samples used in petrographic and chemical studies.
---
FIRST FLOOR ROCK SLABS
The following slabs are located on the first floor (including two that are on the south and west exterior walls); refer to first floor displays & slabs.
Virtual Tour of Under the Stairs Display
---
SECOND FLOOR
Exploring beyond the Confluence, the second floor features a collection of seismology and geology cartoons by long-time cartoonist for The Salt Lake Tribune, Pat Bagley, and many named spaces honoring various generous donors. Within each of these space there is a short write-up about its namesake.
Virtual Tour of Second Floor Elevator Displays
David A. & Hanne Duke Gathering Area: West-end informal meeting space.
Francis H. Brown Classroom: For instruction in Earth science courses.
Gerald W. Hohmann Electromagnetic Laboratory: Dedicated to fundamental and applied studies in electromagnetic geophysics.
Grant Parsons Computer Lab: Used for instruction and provides access to high performance computing to students of geology and geophysics.
Jerry Knaus Gathering Area: North-end informal meeting space.
Michael & Margaret Kerr Seismic Imaging/Tomography Laboratory: For research into applied seismic techniques.
Reverend Marta Sutton Weeks-Wulf Lecture Hall: 80-seat lecture hall.
Vivien Jameson Conference Room: Conference room within the College of Mines and Earth Science (CMES) administrative office.
The map of second floor displays and rock slabs is second floor displays & slabs.
---
GLOBAL CHANGE & SUSTAINABILITY CENTER
The Global Change and Sustainability Center (GCSC) coordinates, promotes, and accelerates interdisciplinary research and training on natural and human-built systems, the dynamic interactions and interconnections that exist in those systems, and the role of humans in the environment.
---
SECOND FLOOR ROCK SLABS
Many of the second floor's perimeter hallway rock slabs exhibit a variety of igneous to metamorphic compositions and structures that represent the solid Earth. The following slabs are located on the second floor; refer to second floor displays & slabs.
---
THIRD FLOOR
The third floor houses the administrative offices for the Department of Geology and Geophysics, classrooms, faculty offices, and analytical laboratories.
Virtual Tour of Third Floor Elevator Displays
Named spaces include:
Charles R. & Cathy Williamson Sedimentary Laboratory: Dedicated to the study of sedimentary rocks and basin analysis.
Ferdinand F. & Henrietta J. Hintze Paleontology & Sedimentology Teaching Laboratory: For instruction about rocks, fossils, and geologic history.
Grant Parsons Classroom: For instruction in Earth science courses.
Hellmut H. & Gerda S. Doelling Gathering Area: North-end informal meeting space.
Matthew P. Nackowski Ore Petrology Laboratory: To investigate ore minerals and their genesis.
---
THIRD FLOOR DISPLAYS & SLABS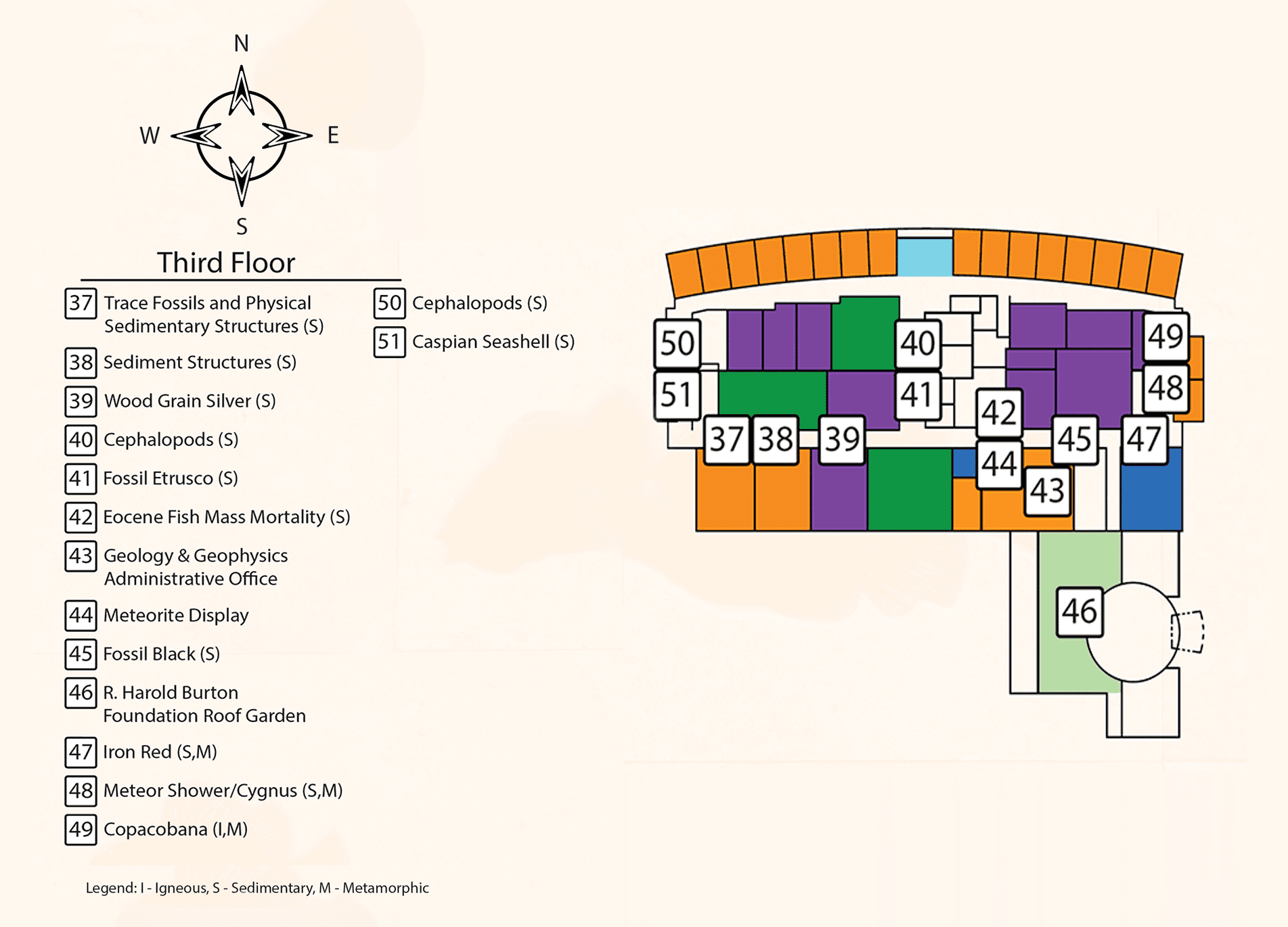 ---
THE HAROLD R. BURTON FOUNDATION ROOF GARDEN
---
---
THIRD FLOOR ROCK SLABS
Earth history (e.g., sedimentary geology, structural geology, and resources) is exemplified in the many sedimentary rock slabs of Proterozoic to Cenozoic in age. The following slabs are located on the third floor; refer to third floor displays & slabs.
---
FOURTH FLOOR
Faculty offices and geochemical and geological engineering laboratories are located on the fourth floor.
Virtual Tour of Fourth Floor Elevator Displays
Virtual Tour of Fourth Floor Views
Named spaces include:
Donald D. & Erika A. Runnells Aquatic Chemistry Laboratory: For the study of aqueous geochemistry.
Donald D. & Erika A. Runnels Gathering Area: West-end informal meeting space.

G.W. Anderson Structural Modeling/Deformation Laboratory: For study of rock deformation and the formation of geologic structures.
James A. Whelan Gathering Area: (A gift from Mike and Andrea Manship) north-end informal meeting space.
MagMaX Lab (Magma & Mantle Experimental Laboratory): For the study of magma genesis and of the transport and differentiation from the mantle to the crust.
Dissolved & Noble Gas Lab: Analytical mass spectrometry for the purpose of dating young groundwaters using noble gas thermometry and age dating.

ICP MS Metals Lab: Analytical mass spectrometry of trace metals and heavy isotopes minerals, water, and tissue.
Particle Light Scattering Size & Surface Charge Lab: Analysis of particle size distribution in fluids.
Strontium Isotope Geochemistry Lab: Analysis of strontium isotopes using analytical mass spectrometry.
Stable Isotope Lab: Analysis of stable oxygen and hydrogen isotopes.
---
FOURTH FLOOR DISPLAYS & SLABS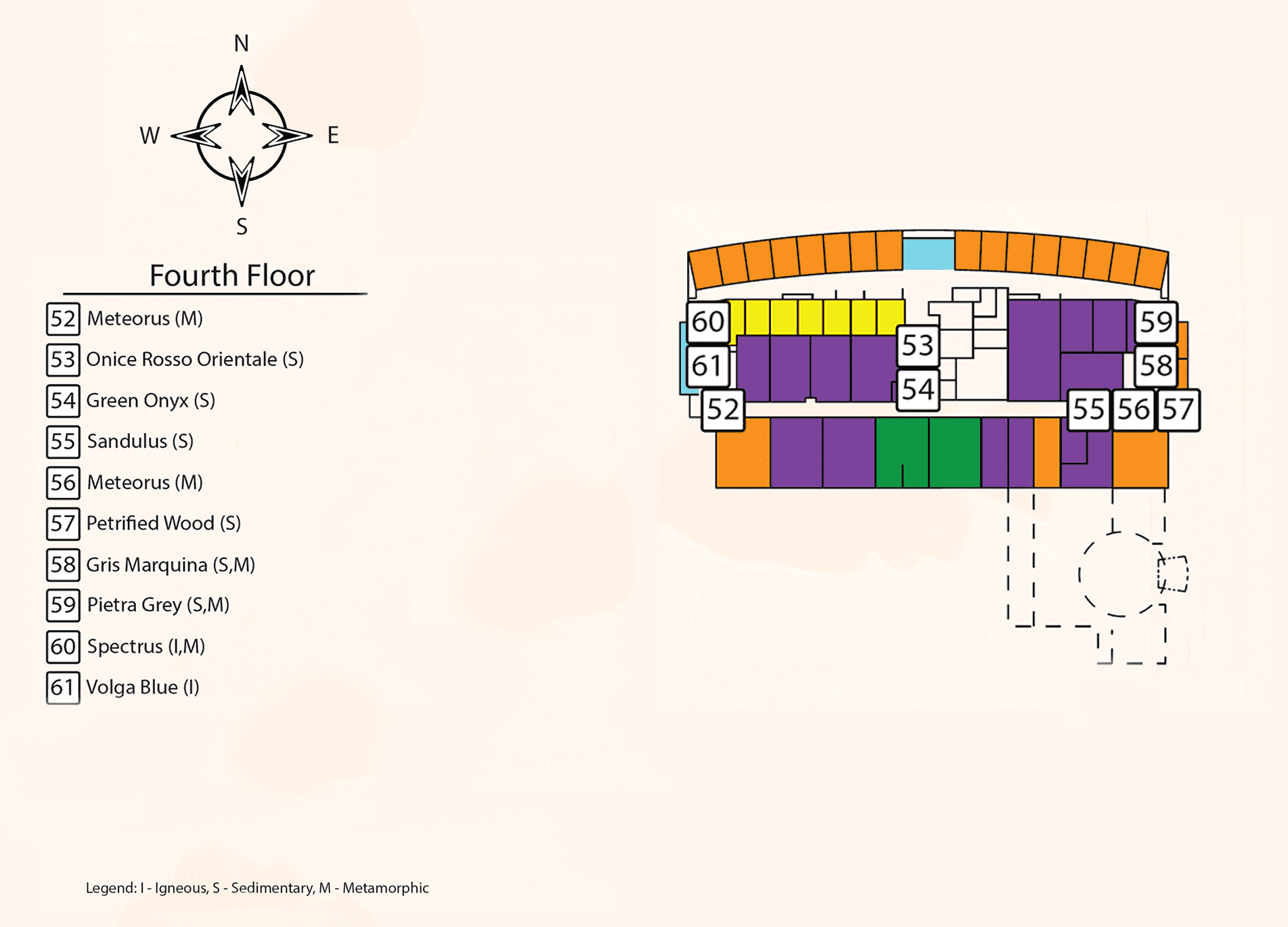 ---
PAT & JUDY BEATIE PETRIFIED WOOD COLLECTION
Parts of this collection are displayed on the first and fourth floors. The Beaties spent decades collecting these specimens; some may represent new species.
Virtual Tour of Petrified Wood
---
FOURTH FLOOR ROCK SLABS
Earth surface studies include hydrology, geochemistry, volcanology, and geological engineering, housed on the fourth floor. Rock slabs reflect water processes, their precipitates, and complex geochemical conditions. The following slabs are located on the fourth floor; refer to fourth floor displays & slabs.
---
ACKNOWLEDGMENTS
We are grateful to our major benefactor, Reverend Marta Sutton Weeks-Wulf, and the many other individuals and organizations whose gifts made this building possible. We thank the many companies who provided in-kind gifts that greatly enhance the furnishings, displays, and special projects incorporated into this facility. We give special recognition to Department of Geology and Geophysics faculty members, including former dean, Frank Brown, who dedicated tremendous time and thought into making this building a special place for future generations of students, teachers, and researchers to learn about Earth science. Thank you all!
We also wish to acknowledge the role of Dr. Marjorie A. Chan who was department chair at the time the building was designed and built. She headed the display committee and design team, overseeing details of the experiential displays, and gathering in-kind donations, including polished rock slabs that now grace the walls.
If we neglected to mention any major donor, we sincerely apologize.