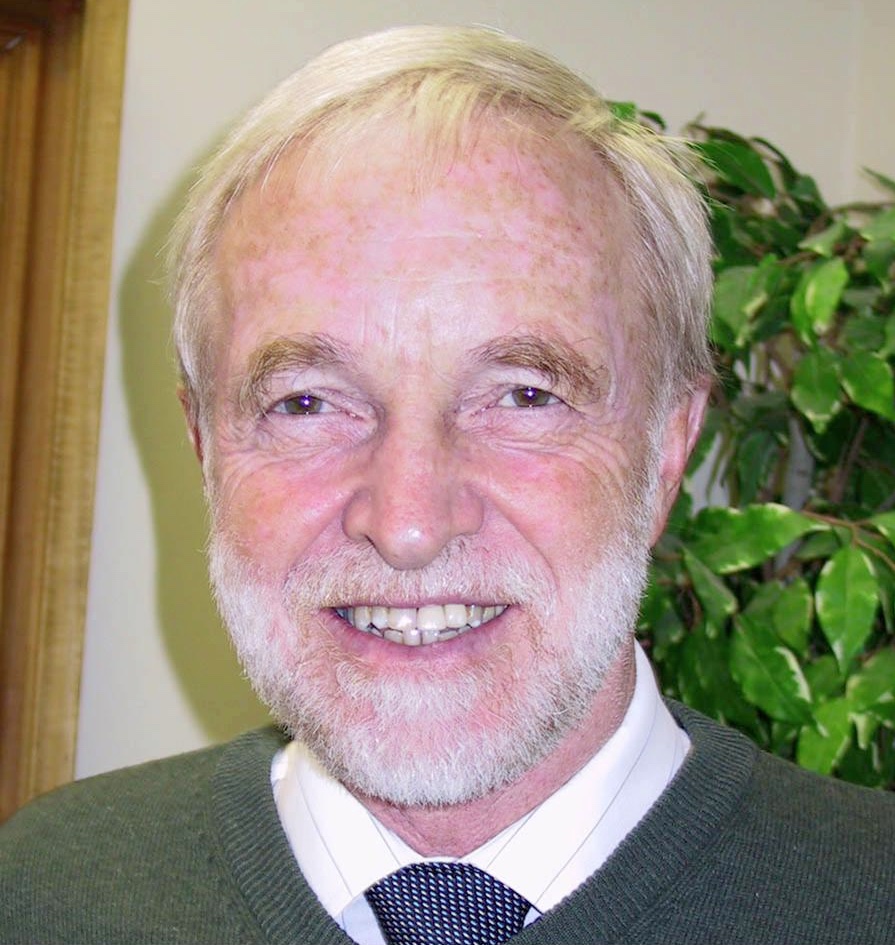 In Loving Memory
Professor Emeritus
Dr. David Spencer Chapman
August 31, 1942 - March 10, 2023
Statement from Department Colleague & Friend, Dr. Thure Cerling
David Chapman passed away unexpectedly on 10 March in Vancouver, British Columbia. Dave was an extraordinary researcher, teacher, mentor, and administrator. He loved to demonstrate what could be accomplished using the back of an envelope, a pencil, and a little brainpower. His research in geophysics spanned the globe, using measurements of temperature to understand topics from plate tectonics to climate change. His teaching, from equations on napkins discussed during coffee breaks to his classroom demonstrations to his exemplary example of ethical behavior, left an indelible mark on thousands of students and colleagues around the world. As Dean of the Graduate School he engineered changes to programs to the benefit of all students. We all will miss Dave and his ever upbeat attitude towards problems large and small.
If you would like to make a donation in his memory, please visit the David and Inga M. Chapman Endowed Scholarship. The Chapman Fund supports unique educational and research opportunities for both graduate and undergraduate students. These opporunties may include research visits to collaborative labs; attendance at focused workshops, short-courses, and conferences; opportunities that broaden a student's international experience; and opportunities to participate in collaborative field studies and research cruises. The fund does not support attendance at regular society meetings or conferences.
Obituary
David Spencer Chapman, an optimist who loved people and nature, died peacefully on Friday, March 10, 2023, kept company by his family. Dave was a remarkable man: a celebrated teacher, an environmentalist before it was popular, and a loyal friend. Above all, he was a dedicated husband, father and grandfather; his extended family meant the world to him. Dave was a positive force who affected the lives of hundreds of people over his 80 years and left the world a better place.

Dave was born on August 31, 1942, to Margaret and Harry Chapman. He grew up a part of a lively, loving family—sister Babs and brothers John, Mike, and Tony—on Vancouver Island. He excelled academically and athletically, and completed his BSc at the University of British Columbia in 1964 and a Masters in physics with Phil Critchlow in 1966. It was at UBC that he met the love of his life, Inga Hahn. It was a rainy day, he had no umbrella and he asked if she would share hers. This was the beginning of a rich life-long partnership; they were married on August 7, 1963.

In 1964, Dave and Inga joined CUSO International and moved to Zambia, where Dave taught math and physics for six years. While in Zambia, they had two daughters, Kristine and Andrea. Dave went on to do a PhD in geophysics at the University of Michigan with his lifelong friend and mentor, Henry Pollack. While there, Inga and Dave had their third child, Jeffrey Spencer.

Doctorate in hand, David took a professorship at the University of Utah in 1976. Salt Lake City turned out to be the perfect home for 40 years, with access to hiking, skiing, and camping. It was "western living at its finest," as Dave often said. The geology and geophysics department was filled with wonderful colleagues, and this circle of friends grew throughout the university and the city. He was an involved father, coaching soccer and spearheading weekly Sunday cross country ski trips "to the church of the great outdoors." Dave and Inga's home had an open door and many visitors from around the world enjoyed their warm hospitality and the rich discussions around the Chapman table.

Dave was an extraordinary researcher, teacher, mentor, and administrator. His research in geophysics spanned the globe, related to topics from plate tectonics to climate change. Dave was able to make complex scientific concepts clear. Through international and community lectures, he helped many understand the science behind climate change. He loved to demonstrate what could be accomplished with the back of an envelope, a pencil, and a little brainpower. As Dean of the Graduate School, Dave implemented many changes that benefited all graduate students. He received numerous honors, including the Rosenblatt Prize for Excellence, in recognition of his academic and administrative talents.

After retiring, Dave and Inga moved to Kitsilano in Vancouver, BC, walking distance from both daughters and a stone's throw from the ocean. In his characteristic manner, Dave made meaningful connections in the community and UBC, and embraced time with his close-knit family. He treasured the proximity to and deep friendships with his and Inga's brothers and their wives. During his later years, David's devotion to Inga through her journey with Alzheimer's Disease was remarkable. An eternal optimist, Dave made the most out of every situation.

Dave and Inga treasured traveling. Dave visited and collaborated with colleagues in the US, Canada, Germany, New Zealand, Russia, Korea, India, Indonesia, and many other countries. The Chapman family stretched their wings during sabbatical time spent in Germany, Sydney, BC, and New Zealand. Later on in their lives, Dave and Inga enthusiastically embraced walking and biking from town to town, staying at inns along the way. They were often accompanied by their dear friends, the Bowmans, or their children.

Dave loved people. Nothing made him happier than time spent with friends and family: a good happy hour or a lively dinner party; phone calls with his brothers, children, grandchildren, and old friends; lunch with his students at the Union while working out a thorny problem on the back of a napkin; or a quick chat with a fellow hiker while out on a trail. Dave loved to talk, and people loved to talk to him. He had an infectious smile and a genuine interest in everyone. Dave always saw the best in everyone.

Dave is survived by Inga, his beloved wife of 58 years; children Kristine (Martin), Andrea (Kevin), and Jeffrey (Joanna); grandchildren Sarah, Cole, Mia, Max, Leia, and Gabriel; brothers John, Mike, and Tony.

Memorial Service
A memorial service will be held on Saturday, April 15, at 12:30 at the Royal Vancouver Yacht Club, 3811 Point Grey Rd, in Vancouver.
Anyone unable to come in person may join virtually:
Meeting ID: 656 3922 3000 Password: 095736
In Lieu of Flowers...
In lieu of flowers, you may make memorial donations to the Dave and Inga Chapman Endowed Scholarship Fund for Geology and Geophysics at the University of Utah, which they started to enrich students' education through access to conferences, field work, or research collaboration.