Be Our Guest! (Non-U of U Employee Travel)
The below instructions are for non-U of U employees. This includes:
students (non-employees)
retired faculty
prospective graduate students
guests to our department
colleagues whose travel anywhere in the world is being paid by funds held by the University of Utah
If you are a Distinguished Presenter for our Guy F. Atkinson Endowed Distinguished Lecture Series (DLS), please visit out DLS travel webpage.
Please let us know if you there is anything we can do to ensure your travel experience is a positive one.
Contact information for our Department Travel Faciliator.
Regardless of who is ultimiately responsible for the paying for your travel expenses, you can make your hotel, rental vehicle, and/or airfare reservations yourself or we can assist you via our University's travel agents.
The University's travel agents are employed by Christopherson Business Travel and are dedicated to handling University of Utah travel exclusively. Our Department travel facilitators will work directly with them to book your travel. Please note that the University is not always able to get the same price that you may find on a discount travel website; sometimes we are higher, sometimes we are lower.
Note: If you are planning to book your travel through the University of Utah system, please plan on the process taking a few days.
U of U Facilitated Reservations: If you choose this option, regardless of who is paying for the expenses, please following the instructions in the appropriate sections below for "University-booked Airfare", "University-booked Lodgings", and/or "Ground Transportation".
Self Reservations: If you choose this option and will need reimbursement, please send us a completed Guest Request Trip form prior to your trip. Then to submit for reimbursement, please following the instructions in the "Reimbursement of Expenses" section below.
International Travelers: University policy requires that you send us a completed Guest Request Trip form at least 1 month prior to your trip. (This does not apply if you are booking and paying for all of your own travel expenses.)
Additionally, all U of U undergraduates and emeritus faculty for all international trips must complete the International Travel Approval form and send it to the Department Travel Faciliator at least 1 month prior to your trip. (This form is not needed for guests.)
Below are the forms you may need to complete depending on your travel and reimbursement situation. Instructions on when to use which forms are located in the appropriate sections on this webpage.
Due to the University's travel process, it is critical that guests completely fill out the correct forms to ensure we have all the information required before we start the booking process, thus reducing the potential for delays. We have strived to make the form as clear and concise as possible.
If you are coming to campus, please familiarize youself with the University of Utah Office of Equal Opportunity and Title IX policies.
Vistors & Vendors Training Video (6 minutes)
If you have any expenses you need reimbursed, please email our Accountant the below, completed items. Please note that it can take a few weeks for you to recieve your reimbursement check.
Required Documentation:
GG Travel Reimbursement Form


If you have multiple receipts for a single type of expense, put in "Multiple" under the "Vendor" and "City of Purchase" fields with the sum of your receipts under the total column. If you have other receipts that don't fall under any of the categories, you may put them under the "Misc. Expenses" field.

If we have not paid the guest/non-employee in the past, we need to have a verification of their Legal name in order to set up reimbursement. The guest/non-employee traveler needs to provide ONE of the following as verification of legal name:

A copy of a Driver's License

IRS W9 (Request for Taxpayer Identification Number and Certification) form (for US citizens;

needs to be filled out completely with address and signature)

or IRS

W9BEN (for non-US citizens; the form will be sent to you through a secure link when the time is approprioate)

Email from vendor verifying correct spelling of legal name

A flight itinerary with the vendor legal name

UID is also a valid form of this verification

Uber & Lyft emails are not a valid form to verify legal and and/or address
R

eceipts (Receipts must list all items purchased and show method of payment.)

Note: If you are not a US citizen and your reimbursement needs to be sent internationally, we will need to do International Wire Transfer Payment Request.
If we are booking your airfare, please send us the below, completed forms as soon as you are ready:
IMPORTANT NOTES:
Due to the nature of the University's travel system and the fact that staff work M-F 8am-5pm, we are often not able to book flights the same day you request them.
Additionally, the airfare booking process must take place within a few hours of the ticket being put on hold by the University's travel agency and it must be completed on the same day before 5pm MST. To that end, it is essential that the Travelers be checking their email during 8am-5pm MST on the day their ticket is being purchased.
If we are booking your lodgings, please send us the below, completed forms as soon as you are ready:
If you are traveling to Salt Lake City, we are happy to make hotel reservations for you at our University Guest House (on campus; about $150/night) or one of the 6 university-preferred hotels OR you may make your own reservations at a place of your choosing.
If we are booking your transportation, please send us the below, completed forms as soon as you are ready:
Ground Transportation: Feel free to reserve your own Lyft, Uber, or taxi (20 minutes from airport to the University).
Rental Vehicle: We can make a vehicle rental reservation for you; however, even if we are paying for the rental, you will need to present a personal credit card upon vehicle pickup.
Personal Vehicle: Use the Personal Vehicle Mileage Log. Find the Standard Mileage Rates for reimbursement. If mileage reimbursement will be your only expense, email the mileage reimbursement form to Payroll & Payables Coordinator along with the account to be charged AND a Google map showing the route taken (must show the same number of miles as listed on the mileage log).
If you are coming to Salt Lake City, in addition to the options above, you might also be interested in:
UTA (Utah Transit Authority): Salt Lake has a wonderful public transit system that can take you to your hotel or the University from the airport. There are four TRAX (light rail) stations (all of which are only accessible on the Red Line) and over 60 bus stops on campus.
To reach the University (65 minutes): Take the Green Line (heading to West Valley) to the "Court House" stop. Then, transfer to the Red Line (heading the University). The one-way fare to and from the airport is $2.50.
U of U Shuttle: Our campus has a free shuttle system that makes it easy to get anywhere you need to on campus, including to and from the University Guest House and our building via the Green route. The name of the stop nearest our building is "Kennecott", which is directly north of our building.
For more information on short term and visitor parking, visit U of U Commuter Services.
Visitor Parking Lot: There is a visitor parking lot directly south of our building. To get directions to this lot, search for "Sutton Building - FASB - Bld 12" on the Campus Map. (Basically: Take 100 South onto campus. Turn right onto 1455 East. Follow the road around the parking garage. When you reach the T intersection, turn right and the visitor parking lot will be on your left.)
You can pay by credit card or department-issued parking validation (see below). And there are two ways to start a parking session:
1. Pay at the Kiosk Machine:Visit the kiosk machines located within the pay lot and follow the prompted steps.
2. Pay with MobilePay:Scan the QR code displayed on the kiosk machine to be redirected to the TEXT2PARK website. You can also text the P-Code message (ULOT6, ULOT12, ULOT25, ULOT28, ULOT 33, ULOT64) to "25023" to receive a link to the TEXT2PARK website via text message.
Requesting a Parking Validation: If you need a department validation, email the below information at least 1 business day prior to the day of your visit.
Email subject: Requesting a parking validation for [date]
Body: First and last name and organization of the guest. Date of visit. Purpose of visit. Name of U of U persong hosting the guest. Number of hours needed (1 hour, 2 hours, 3 hours, or all day).
Our department is located in Frederick Albert Sutton Building (FASB), which is on the northeast corner of campus; search for "Sutton Building - FASB - Bld 12" on the Campus Map. We are located about 10 miles from the Salt Lake International Airport and 4 miles from downtown Salt Lake City.
Our building is connected to the Browning Building (WBB). Inside it can be difficult to know which one you are in. FASB is to the north and is most easily entered from the east (mountain side) through the 2nd floor. To reach the Department Administrative Offices (room 383), head left once inside the Confluence. When the hall comes to an end at the computer lab, you can either take the stairs to you right or head left down the hallway to find the elevator near the restrooms.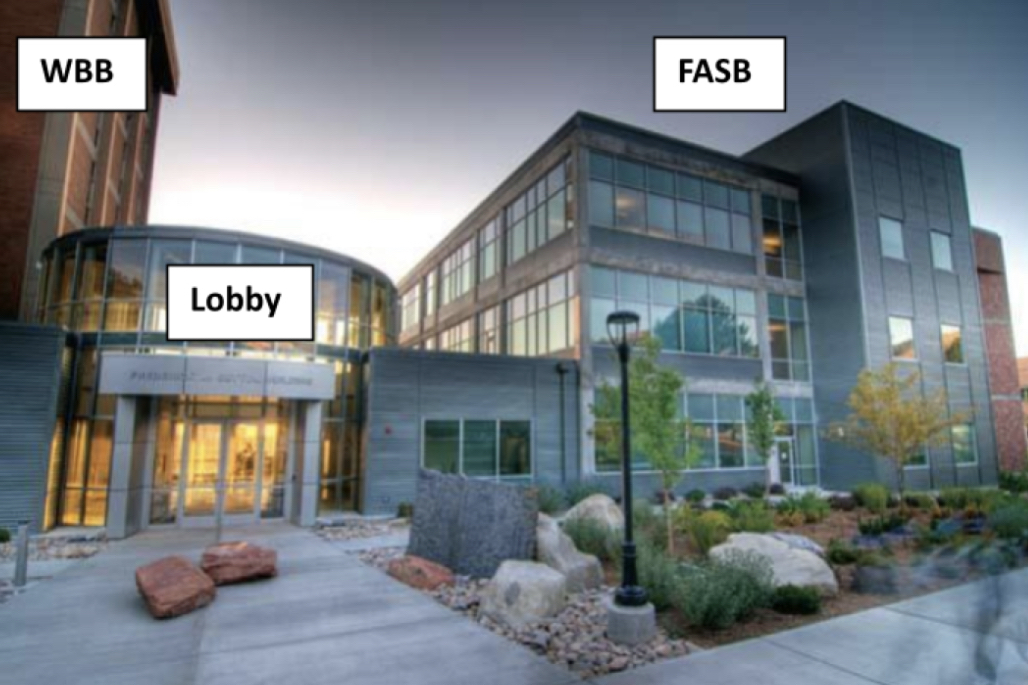 Frederick Albert Sutton Building
115 S 1460 E
Salt Lake City, UT 84112-0102
Main Office: Room 383