Guy F. Atkinson Endowed Distinguished Lecture Series in the Department of Geology and Geophysics
Upcoming Lecture Information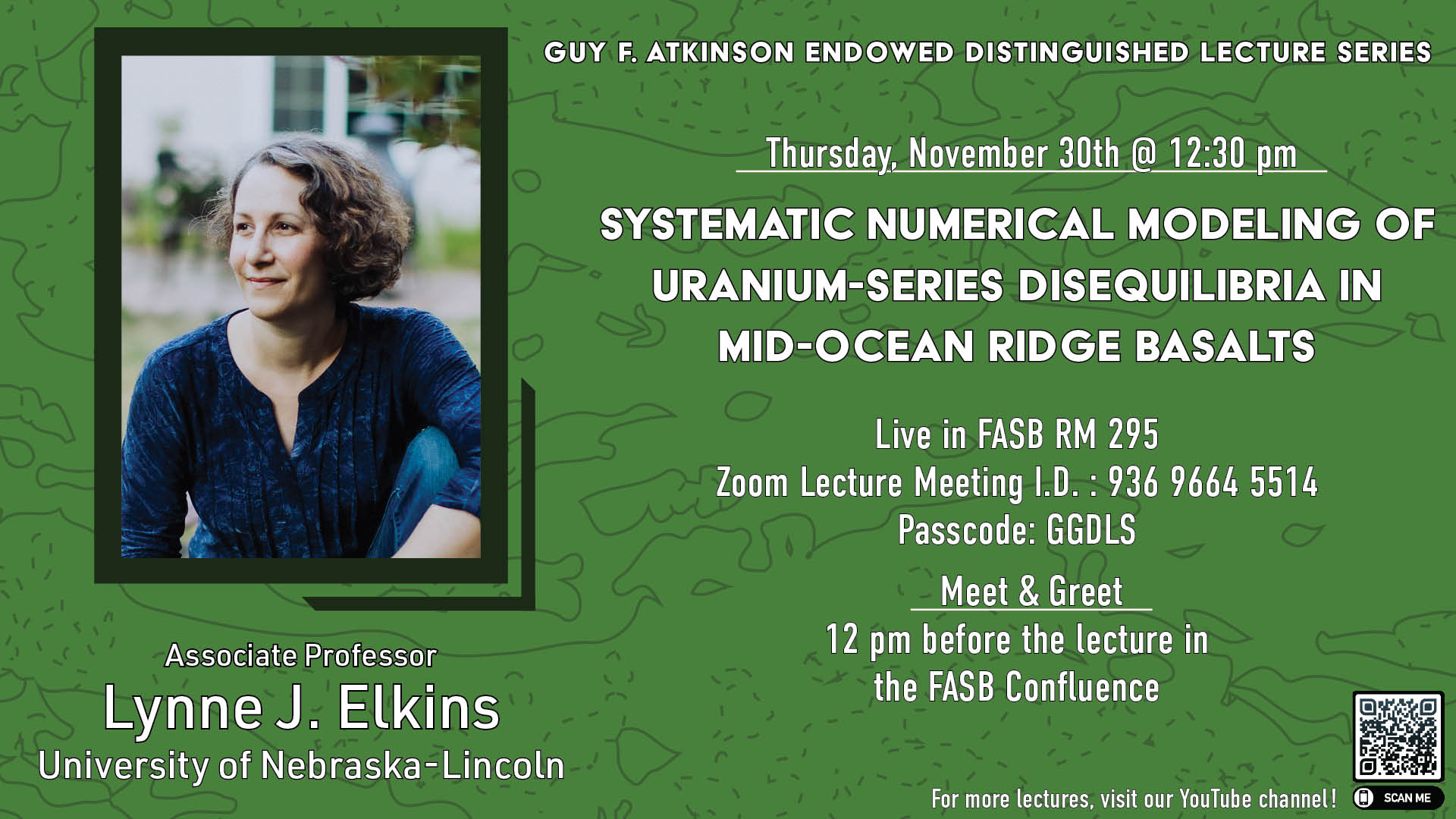 Lynne J. Elkins Bio
Lynne Elkins is an igneous petrologist, geochemist, and computational modeler who investigates the origins of magma, the interactions between mantle dynamics (including partial melting) and plate tectonics, and the role of mantle heterogeneities in generating oceanic crust. She primarily explores these questions through the analysis of radiogenic and uranium-series isotopes, and through numerical calculations of partial melting.
MEET & GREET: Our Meet and Greets are a great opportunity for students, faculty, and staff to informally chat with the guest lecturer about their career and research. Meet & Greets take place only for in-person lectures and is from 12-12:30pm in the FASB Confluence Lobby.
LECTURE: The 1-hour lectures take place from 12:30pm-1:30pm.
In-person lecture take place in FASB 295 and are broadcasted via Zoom.
Virtual lectures are only broadcasted via Zoom.
Zoom: https://utah.zoom.us/j/93696645514, passcode: GGDLS. You do not need a Zoom account in order to join.
The Guy F. Atkinson Endowed Distinguished Lecture Series is a free, public, weekly event to which we invite researchers, educators, and communicators from around the world. Here they present their unique and intriguing contributions to the field of Earth sciences. Our hope is to encourage meaningful discussion, challenge ideas, and to spark interest in the creation of a rich and diverse scientific culture that our students, staff, and faculty may carry out to the rest of the world.
Previous Lectures
Check out our YouTube channel to watch past lectures (starting in 2019).
For the previous years lectures click here